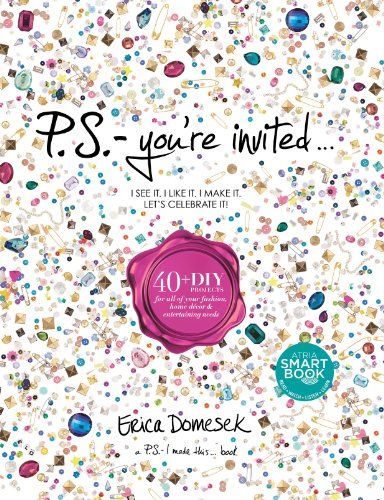 Image via Amazon.co.uk
In honour of new craft tutorial inspiration book P.S. You're Invited, written by blogger Erica Domesek (of P.S. I Made This), today I'm going to be sharing my thoughts on the book as well as trying out one of the projects for myself as this week's Sunday DIY!
---------------------------------------------------
As a fellow DIY and craft blogger I was excited to get my hands on an advanced ebook copy of
P.S. - You're Invited
back in the Spring, particularly after the success of Erica's previous fashion DIY book
P.S. - I Made This
, based on
her amazing blog of the same name
.
This time the book's theme is crafting for a variety parties and occasions, each one with it's own section including several DIY project tutorials. My favourite sections were 'Sexy Mexi' a colourful range of fiesta inspired ideas, 'Game On' with girls game night projects and 'Cheers' which focuses on a more glamorous evening or dinner party. Each tutorial is easy to follow with step by step photo guides, easy to read fonts and beautiful bright images. In addition to the photo tutorials there is also digital content available where you can watch videos and get extra tips from Erica herself – a fantastic and innovative interactive element that adds to the reading experience.
For me personally the stand out projects were the 'Glam Wire Earrings' a thrifty idea where paperclips and safety pins are used to create a pair of statement earrings, 'Striped Champagne Flutes' decorated with nail polish, the 'Fringe Garland' a brilliantly versatile idea that could work for many occasions and finally the unusual 'Cork Clutch'. I would say there is something for everyone in this book in terms of style but also in the difficulty levels of the projects. As with many books in this genre not all of the ideas were to my taste however many of them could easily be adapted to suit each reader.
As well as the individual tutorials there is also a rundown of basic supplies every aspiring crafter should have stashed away, plus a 'where to buy it' feature for several of the specific projects at the end of the book.
Overall
P.S. – You're Invited
is full of simple but effective ideas which don't require much previous DIY/craft experience but could also be adapted and taken further which is great for beginners and experienced crafters alike. I would absolutely love to create a project like this myself and have definitely found Erica's book to be a great inspiration. I just hope that if I ever publish my own DIY book I can do it as well as Erica!
Find P.S. - You're Invited on Amazon
---------------------------------------------------
So, that's my review of the book – as you can tell I would definitely recommend picking it up!
Don't forget to check back on Sunday to see my version of a DIY from the P.S You're Invited collection.